Welcome to The Amber
Assisted Living Community Clatskanie, OR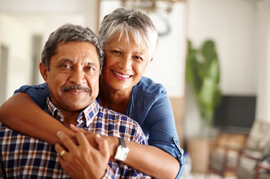 Sapphire at The Amber is an assisted living community located in a beautiful valley stretching along the Clatskanie River in Columbia County, Oregon. The ambiance and peaceful weather of Oregon's Northwest coastal range allows residents to enjoy their lives in a care free and relaxed environment. At The Amber you will experience unique comfort and a passionate staff committed to providing the best in assisted health care.
With care options that include assisted living and respite care services, The Amber focuses on giving all residents a warm, supportive environment. You can live in the comfort of your own private apartment, furnished with your favorite personal belongings, and always feel secure knowing help is available 24 hours a day. Built on genuine respect and earned trust, The Amber helps and encourages residents to be in charge of their lives- creating a rich, friendly, and meaningful living experience.
Our friendly and well trained staff is on the premises 24 hours a day to provide not only the required professional support and safety, but also an emotional boost. Most of The Amber's employees grew up in the area and come from generations of locals. They welcome the opportunity to be surrounded by the wisdom and experience of our residents, often the parents of their neighbors and friends. The Amber is a community within a community.
We invite you and your loved ones to visit our senior living apartments – Sapphire at The Amber to see first hand the joy and comfort we help provide.
Contact The Amber Senior Assisted Living Community Today!
24-hour supervision

Medical appointment scheduling

Three nutritious meals daily

Social and community services

Weekly housekeeping and linen service

Apartment maintenance

Scheduled local transportation

Planned activity schedule

Medication monitoring

Monthly wellness checks
Beauty/Barber salon on site

Community fireside lounge/library

Jacuzzi tub

Beverage & snack bar

Covered Patio

Large open dining

Movie/TV community area